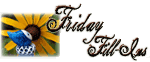 1. If I could be a fly on the wall I would
definitely be a bird
2. Jealousy is
normal in any relationship.
3. When I see a shooting star my wish would be that
life will be better and people in this world will have something to eat 3 times in a day.
4. I'd rather be
a butterfly
than
a worm
any day!
5. Certain songs when I hear them make me wanna
shake my botty (lolz), dance, sing and jump.
6. If time were in a bottle
I'd surely be a soda
.
7. And as for the weekend, tonight I'm looking forward to
watch a film
, tomorrow my plans include
doing my own foot spa
and Sunday, I want to
go at the pool!